Share these stories
Help us share these stories and inspire action to protect this amazing waterway of the Pacific Northwest.
Stories from the Salish Sea
The Salish Sea. This extraordinary waterway—a system of interconnected marine ecosystems and its web of upstream links to rivers, forest, mountains and glaciers—sustains a tremendous abundance of life, from animals that make their homes below its surface to those that fly above it and walk near to (or even far from!) it on land.
The Salish Sea also sustains us: the people who live, play, work and raise families in the Pacific Northwest. And it's up to us to make the changes, individually and collectively, that will help preserve our Salish Sea for generations to come.
With generous financial support from the James M. Lea Foundation, we've created a three-part video series, hosted by wildlife ecologist and conservationist Chris Morgan. Each short video tells a different story about the wonders of the Salish Sea, features a variety of experts explaining why this body of water is so important, and describes a few of the ways we can all make a difference for its health. You'll find more ideas on our webpages devoted to the individual videos.
We hope these videos bring our community a sense of hope and joy about the amazing waterway we're so fortunate to have in our collective backyard, and inspire you to take action to protect it. We also encourage you to share the videos widely with your friends, family and personal/professional networks.
Thank you for joining us in our work to protect our Salish Sea, one world ocean and blue planet!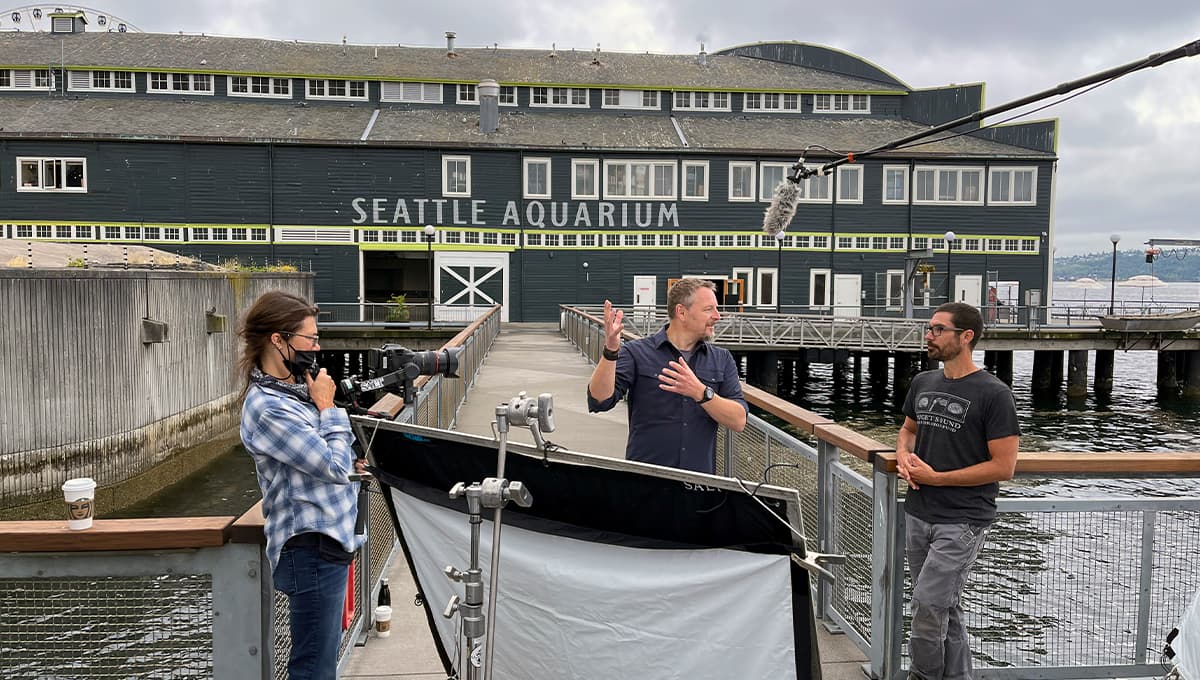 Behind the scenes: Stories from the Salish Sea video series
The project took almost exactly one year to produce from beginning to end.
Thirty-eight experts advised on this project. More than 60 people in total contributed to making this series possible.
Six boats, six drones, three dive teams and countless ferries were used in the making of these videos.
Not a single animal or human was injured during the making of these videos.
Filming of marine mammals was done under NMFS/NOAA research permit #21238.
The Seattle Aquarium thanks the James M. Lea Foundation for its generous financial support for this video series.
Thank you also to the video production team at Soulcraft Allstars and Chris Morgan for their invaluable contributions.
Our gratitude to those who shared their time and expertise in the making of the videos:
Grant Abel
Derek Baker
Ballard Locks
Joseph Becker
Becky Bingham
Sienna Blair
Stephanie Blair
Hailey Bortel
Ginny Broadhurst
Tim Carpenter
Mira Lutz Castle
David Chapman
Alexander Chee
Ryan Crim
Robert W. Davidson
Sharon Dean
Eddyline Kayaks
Casey Finkbonner
King Finkbonner
Phoenyx Finkbonner
Aquila Flower
Dr. Deborah Giles
Florian Graner
Charli Grimes
Jamie Gunn
Jon Hofstra
Barbra Israel
William Jefferson
Kathryn Kegel
Dani Kendall
King County Parks
Martha Kongsgaard
Tim Kuniholm
Darcie Larson
Dan Lombardo
Pat Maxwell
Anna McAllister
Katie McGillvray
Lucinda Meador
Dr. Erin Meyer
Bailey Minne
Ruth Musonda
Nora Nickum
Jim Rappold
Brad Rutherford
Pam Schellhase
Sarah Seaborg
Valerie Segrest
Jackie Selbitschka
Robin Little Wing Sigo
Snug Harbor Resort
Charlotte Spang
Kim Thomas
Jodie Toft
Louie Ungaro
University of Washington
U.S. Army Corps of Engineers
Washington State Parks
Rachael Weakland
Kate Weatherford
Michael Weiss
Dr. Jim Wharton
Wild Orca
Kat Willson